About
Nãm started as a small basement in Largo do Intendente (Lisbon, Portugal), and it has become the first circular economy urban farm in Portugal. From coffee waste, delicious mushrooms and quality fertiliser are produced. Thus, Nãm only uses what is available locally, thus protecting the planet.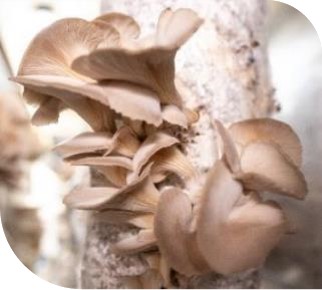 Why it is a good practice?
Nãm turns used or spent coffee grinds into fresh, local and organic mushrooms. Then, the waste from the mushroom production results in organic and nutritious fertiliser which can be used for growing fruit and vegetables.
Nãm also helps in children's education, by teaching them about food origin, how to grow mushrooms and the importance of a circular economy. They invite guests to their urban farm as a way to share their passion for urban agriculture and the circular economy.
Not only that but Nam also now provides home-growing DIY kits, so that consumers become more in touch with what they are eating.
Sustainable
Nãm farm can already transform 3 tons of coffee grinds per month (or 36 tons per year) into 1 ton of mushrooms per month (or 12 tons per year). Two tons of natural fertiliser are also generated.
Nãm fosters urban farming. Urban farming is becoming a trend, and it is a good thing because it reduces the ecological footprint. Firstly, growing food locally allows production close to the customers, eliminating
unnecessary transport and reducing CO2 emissions. Not only is this a benefit for the planet, but also less transport means lower costs. Furthermore, local food production also helps build resilience. Resilience is the ability to withstand shocks and in particular, to be able to be self-sufficient if the global food supply chain faces shortages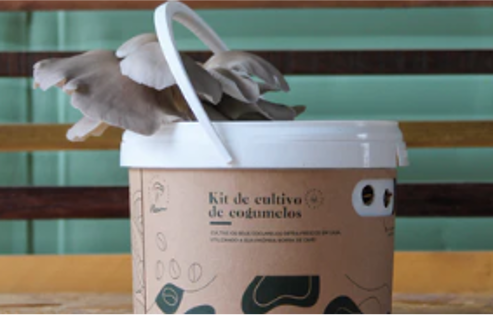 Ethical
Nãm wants to prove that protecting nature can also mean creating jobs and value for the community. A good reason for growing food within the city is that it creates jobs and brings the local community together around a project. It often results in stronger community connections.
At Nãm, they are passionate about helping individuals and businesses consume sustainably and locally. They work with restaurants in Lisbon to help them make better food choices using Nam mushrooms and by involving them in their community.
About
FRULACT is a business group established in 1987, positioned as a top-ranked innovative company in the supply of added-value ingredients for the food and beverage industry, focused on fruit preparations, flavours, and plant-based ingredients. Thus, FRULACT adds value to raw materials through innovative and efficient processing methodologies, betting on trends, and anticipating consumers' needs.
FRULACT serves globally a full range of dairy, beverage, and ice cream producers from its production units bases in Europe (Portugal, France, Germany and Switzerland), North America (Canada), and Africa (Morocco and South Africa).
FRULACT's headquarter is based in Portugal, and nowadays, the company is owned by Ardian, a world-leading private investment house.
FRULACT's products are: (i) stabilised preparations, that are based on fruits, vegetables, cereals and seeds, functional ingredients, savoury and/or specialities; (ii) flavours by the Frusenses; and (iii) plant-based ingredients by the Oatvita.
Why it is a good practice?
FRULACT cares about sustainability management, engaging and constantly communicating with stakeholders all along the value chain. Thus, FRULACT tends toward nature, partners, people and innovation.
At FRULACT, they rely on everyone to contribute innovative thinking and ideas. As part of the strategic review of RDI strategy, the governance of RDI activities
was also reviewed. An Innovation Committee was created.
FRULACT cares about its employees (Frupeople) and invests in fostering personnel development. They implement the Frulact Academy, a project that aims to provide the Frulacteans with the skills they need to perform at the highest level by sharing internal and external knowledge and establishing strategic partnerships. Frulact implemented an onboarding training program for all employees that covers Quality and Food Safety, Environmental and Health and Safety topics. In 2022 Frulact subscribed to Axa Climate School to upskill and engage all employees to succeed in the sustainable transition.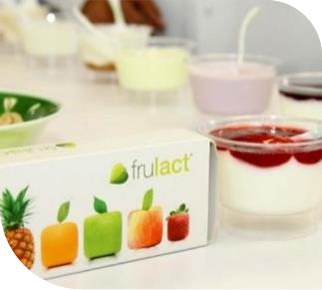 Healthy
The RDI Strategy was defined and aligned with FRULACT's Global strategy, namely "Natural, healthier, and new experiences". FRULACT improves its portfolio with healthier and high nutritional products, providing new experiences to consumers. They also preserve and enhance the quality and properties of the ingredients by using new or improved processes to increase product quality. Furthermore, the reduction of sugar is identified as a strategic area of knowledge production by FRULACT. The company has been developing alternative formulations aimed at eliminating the incorporation of sucrose and/or reducing the energy value of its products by identifying solutions available on the market and analysing their sensory, nutritional, functional, microbiological, and sustainability impact.
Sustainable
In 2019 Frulact defined a sustainability strategy inspired by its value chain, where the Group realised the impact of specific activities - internal and external - on the company and the community. Frulact's Value Chain for Sustainability reflects how they add value to the business through sustainable practices and the optimisation of the resources used. FRULACT's value chain for sustainability focuses on the following topics: Nature – protect in order to harvest; Partnerships – transparency builds trust; FruPeople – their driving force; Innovation – adding value; Products and Markets – challenge the future.
FRULACT promotes agricultural best practices through procurement policies while ensuring the quality and food safety of raw materials, including:
integration of biodiversity preservation: the Promotion of Sustainable Agricultural Practices for the enhancement of Biodiversity is fostered;
preservation of natural resources by developing innovative technologies that allow the sustainable use of ecosystem resources, with particular efforts to preserve the local ecosystems;
promotion of the establishment of partnerships with stakeholders to create a more comprehensive culture of biodiversity, and sustainable use of natural resources;
promotion of an internal culture of biodiversity preservation, raising awareness and sharing pertinent information on this topic.
FRULACT promotes environmental impact monitorisation to ensure the efficient use of resources, namely by:
improving the efficiency in their water consumption;
transition to energy sources with low carbon or zero carbon. In some units, FRULACT had launched
an energy production units (UPAC) with solar photovoltaic panels;
promoting the recovery of waste generated, eliminating the landfill operation.
Water is a raw material! Frulact also use it to ensure food safety and use it to clean production and packaging lines. Frulact is committed to use it in a more efficient way! FRULACT aim to reduce water consumption by 2% by 2025
Regarding waste management, some organic waste is recovered in composting processes. The waste recovery (% of waste valued through the circular economy) increased from 88 % in 2020 to 93 % in 2021.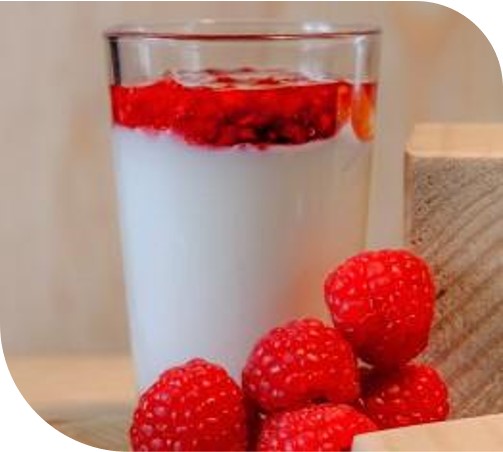 Ethical
FRULACT act in ethical and responsible ways with their own personnel and with all those they collaborate with. They promote and share values of respect and integrity towards humans and our planet
The supplier selection and approval process include the obligation to sign a declaration, in which the supplier ensures the absence of forced labour and child labour in all its forms, favouring suppliers with Global GAP certification, stimulating sustainability along the value chain.
About
Carne D'Erva is a brand owned by Meadow – Agricultural Asset Management, which only produces beef born and raised in Portugal, 100% fed with fresh grass, carbon neutral, and without additives, hormones and antibiotics.
The production of beef takes place naturally and sustainably, in the Ribatejana lezíria, on a 100 hectares of pastures. The brand's philosophy is based on four pillars: production from animals born and raised in Portugal, 100% grass-fed - animals exclusively fed on grass - from biodiverse pastures composed of various plant species respecting the balance of the ecosystem, neutral in carbon and without any additives, hormones and antibiotics.
Animals are reared completely naturally until they reach optimal maturity for consumption.
Meat is sold online, where you can find a dozen beef products with different cuts and eight themed packs that are delivered to consumers' homes vacuum-packed and deep-frozen to ensure product quality and safety.
Why it is a good practice?
Meat production is based on the principles of regenerative agriculture and a circular economy, ensuring the preservation of the environment through the reuse, recovery and recycling of resources. The cattle-raising process positively impacts the environment as it is carbon neutral.
The permanent biodiverse pastures made up of carefully selected grasses, and legumes offer the animals a varied diet that is highly digestible and rich in energy and vegetable protein.
Pastures recycle animal droppings and sequester carbon from the atmosphere, thus offsetting animal emissions. Being permanent, pastures also contribute to a much more balanced soil, increasing carbon sequestration.
Respect for animal welfare is one of the pillars of the company's philosophy. The animals graze peacefully, without being subjected to any stress and feeding exclusively on the grass produced by the 100 ha of land in the countryside —100% Grass FED –fed food.
Outdoor breeding has numerous benefits for animal health including the integration of the animals into a habitat that allows their natural and peaceful development in harmony with the environment.
The entire process of handling, cutting and packaging is done with total care in a company that works exclusively with meat, and the meat is processed in an isolated line.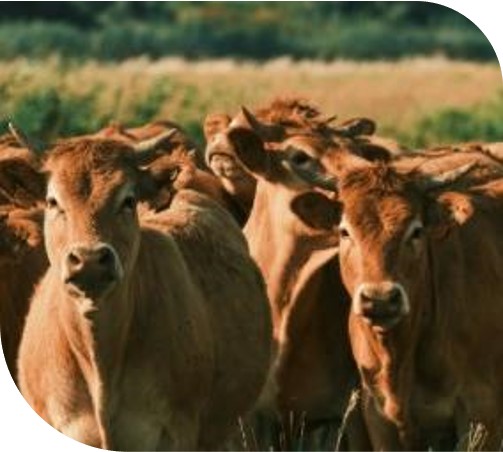 Healthy
Carne d'Erva produces meat that is without additives, hormones or antibiotics. The result is healthy, tender, tasty meat, that is rich in nutrients.
The meat is consistently less fatty and has a lower saturated fat content and also a better balance between fatty acids such as stearic acid, which allows meat not to raise cholesterol
Carne D'Erva provides more antioxidants, as well as vitamins A and E and glutathione (GT), protecting our cells from cancer-causing free radicals.
Grass-Fed beef fat contains seven times more carotene than Grain-Fed beef, a vitamin A-producing compound responsible for healthy eye lining, mucous membranes, lungs, intestines and skin.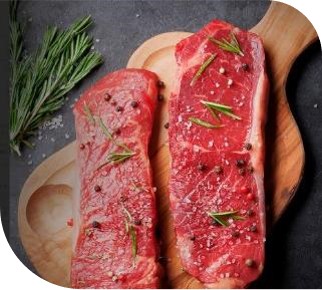 Sustainable
Carne D'Erva's main differentiating factor is sustainability in production, which is based on five distinct points: food self-sufficiency for all animals from permanent biodiverse pastures, promotion of soil improvement and regeneration, efficient use of water, non-use of nitrogen fertilizers and carbon sequestration.
The ecosystem where the farm is located, practically in the middle of the Tagus estuary, is extremely rich in fauna, flora and microbiota. The soils, the former riverbed of the Tejo, are very rich in various minerals, providing the pastures with all the nutrients they need to feed the animals. The care with which meat production is managed in these fields aims to maintain and promote this entire habitat through conservation agriculture with minimal intervention.
The pastures are fertilised only by the animals themselves. Pastures recycle the animals' droppings
and sequester carbon from the atmosphere, thus offsetting animal emissions. Being permanent, pastures also contribute to a much more balanced soil, increasing carbon sequestration. This is how Carne D'Erva can guarantee Carbon Neutrality in their meat production.
Carne D'Erva is in favour of sustainability and zero waste, and as such, they always seek to make a balanced sale of premium cuts with less premium cuts. Soon it will be possible to purchase personalised packs, but always with respect for balance and a continued focus on sustainability.
Ethical
Respect for animal welfare and the environment are the pillars on which Carne D'Erva's philosophy is based.
About
Namet is a leading meat producer in Turkey. Being on top with its natural, healthy and reliable products for many years, Namet ranks first among consumers' preferences with its 150+ products from delicatessen to fresh meat, from further processed products to frozen ones, always with a high level of care for hygiene, technology, and taste. Namet competes with itself to produce the best with its business approach that values human health and quality above everything in the most advanced production plant in Turkey. The company is the market leader with a 21.5% market share, exports to 12 countries, and produces in 4 plants with 1539 Employees (40% women). Their plants have IFS, BRC quality and food safety system certifications as well as TSE product and service qualification certification.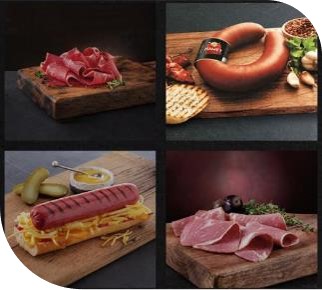 Why it is a good practice?
Here are some reasons for Namet to be considered as an ethical producer:
They obtain 70% of the meat from local farmers. They follow the "Ethical Principles and Working Principles" as a guide in all their business processes.
They want to ensure food safety at all stages, from farm to fork.
They reduce energy consumption, produce their own energy and try to reduce waste and take measures to reduce pollution.
They comply with all environmental laws.
There is no discrimination (religion, language, race, gender, ethnic group, etc.) to provide employment, all working conditions make it equal for their employees and Namet continuously improves the quality of its workforce with regular personnel training offerings.
The firm's expertise in the sector schools and courses in (Namet Butcher School etc.) benefit the workforce, as qualified people contribute to bring its resources to the sector and society.
They are transparent, open to all their stakeholders and have lean, fair and respectful communication.
They value social responsibility and take part in many social projects to contribute to the community.
They contribute to regional development via a regional employment policy.
They aim to employ more than 1,500 people via a new investment planned to optimise the automation systems within the framework of the Industry 4.0 application.
They have a well-established waste policy. They separate the meat products that can be consumed by animals and donate them to animal shelters free of charge.
Considering the needs of nuclear families, they produce the majority of their products as portion packages so that they can consume as much as they can, and the remaining product is not wasted.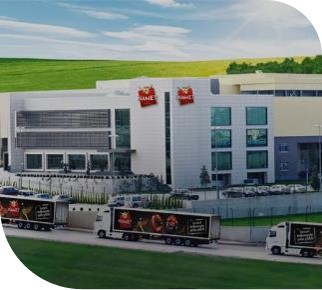 Sustainable
As part of the company's waste policy, they have achieved the following results:
152,087 kg less plastic waste in 2021 with their Lower Foil Thinning project.
They saved 1689 trees in 2021 within their IFCO Project.
They reduced 24,622 kg of metal waste in 2021 with their oil project.
They used their wastewater for garden irrigation.
They meet 60% of their electricity needs in their Şanlıurfa Biogas Plant.
Within the scope of their zero-waste approach, they collect their food and packaging wastes in different areas and send them for recycling.
They collect and purify rainwater leading to the recovery of 500 m3 of water.
They use 2 Cogeneration Systems with a capacity of 2MW/unit to increase energy efficiency and minimise the amount of environmental pollution.
Ethical
Namet principles and values exhibit their ethics as they work to ensure that they are:
Protecting human health via production under the guidance of rules for food safety without wasting natural resources.
Respecting ethical rules and laws.
Producing with utmost care for the environment and nature.
Giving importance to informing consumers truly about meat products, producing new and Turkish pleasing, high-quality and safe products with various tastes in accordance with their needs.
Increasing productivity through keeping the motivation high with the value it gives to its employees.
Increasing quality with R&D studies after overhauling technology.
About
The Hilton Dalaman Sarigerme resort and Spa is an Aegean beach resort, with an enviable location on the edge of the Dalaman River and Mediterranean Sea. The resort is steps from the heart of Sarıgerme and 20 minutes from Dalaman International Airport. One can enjoy a pristine private beach and a variety of activities for adults and kids alike. Restaurants and bars showcase an array of cuisines and dishes ranging from Italian, to Asian, to local specialities.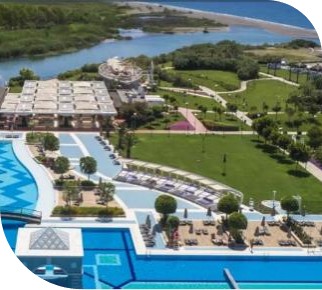 Why it is a good practice?
Hilton Dalaman Sarıgerme, signed an exemplary work in waste management. The hotel pursues "zero waste policy" and invested in compost machines 4 years ago, which enables them to transform the wastes from the restaurant and garden into fertilizer. The hotel, which produces an average of 6-8 tonnes of compost per month from the waste. The hotel has now taken action to donate the excess compost to the farmers in the surrounding villages.
Explaining that the Ministry of Tourism aims to transform the Safe Tourism Certification into a Green Tourism Certificate by the end of the year, Hilton Dalaman Sarıgerme Resort & Spa General Manager Tunç Batum said, "We are a very sensitive hotel about zero waste. In this context, we completed our investments 4 years ago. We produce 10-15 % of the hotel's vegetable needs with the products we obtain from this garden," he said.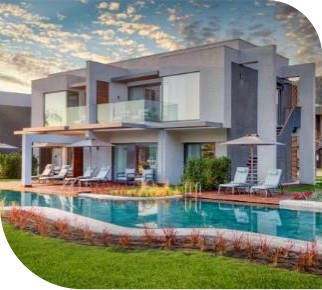 Sustainable
Here are the steps to produce compost:
First, food wastes are brought in boxes.
Next, food waste is put into the compost machine and mixed. It must be kept under a certain temperature.
On the next day, food waste is mixed with the waste from the gardens. After mixing the waste for the next 4 days, the compost is ready.
Compost is left to dry. After 4 days, it is ready to be used in the hotel gardens of 7000 m2 to grow vegetables.
Seasonal vegetables are planted according to the hotel's needs. 33 different variety of vegetables are grown with the slogan of "Table to Farm, Farm to Table".
Sustainable
The Hotel can also use these organic fertilisers obtained in the first stage for the greening of their golf course. In addition, they aim to benefit from these organic fertilizers in their citrus gardens belonging to the company.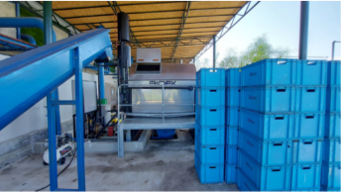 Ethical
This circular approach within these large hotel resorts is critical to their environment and social responsibility. Hotels tend to be havens of waste and excess but this system is at least having a positive effect. Returning the waste to the ground as a high value fertilizer that enables them to grow fruit and vegetables to serve on site is a good step towards having a lesser impact on the environment by shortening supply chains and hence their carbon footprint.
The hotel group recognise their critical responsibility to protect our planet and preserve the beautiful destinations in which they operate for generations to come. Since 2009, they have used the award-winning LightStay system to
measure, report and improve their environmental impact across their global portfolio of managed and franchised hotels. They are proud to be taking a leadership position in fighting climate change, as the first major hotel company to establish science-based targets to reduce greenhouse gas emissions in line with the Paris Agreement. They are also taking major steps toward reducing their environmental footprint through their Watts, Water and the aforementioned Waste programmes.
About
Fazla Gıda is a start-up focused on addressing food waste. As you know zero hunger is one of the issues of United Nations Sustainable Development Goals and Fazla Gıda is a social enterprise with the aim of solving the food waste issue. Having been founded by Olcay Silahlı, CEO, and Arda Eren, CTO, in 2017, the company has saved >55,000 tonnes of food.
Why it is a good practice?
To reach its targets, Fazla Gıda is collaborating with restaurants, hotels, dining halls, food retailers and distributors. Thanks to their cloud-based infrastructure, they offer companies holistic evaluation opportunities through donation via food banking, secondary sales on the HoReCa channel, production or diversion to animal food and conversion to electrical energy in biogas plants in a manner to create maximum financial, environmental, and social benefits from waste products. They set out with the aim of reaching the goals of Ending Hunger, Responsible Consumption & Production, Sustainable Cities & Communities besides achieving the goal of Climate Action, and also showing the young people in Turkey that it is possible to do a job that is in involving benevolence for humankind and for the planet.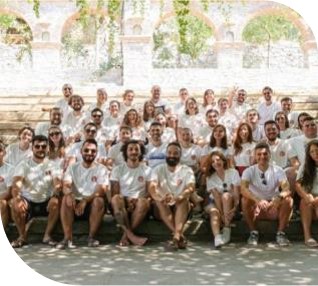 Sustainable
In the food business side which consists of manufacturers, retailers, and the associates of HoReCa sector, food waste is mainly caused by inefficient inventory management, logistics operations, and the high-quality requirements of the food sector. Even though most of the surplus is suitable for human consumption or for use in various other processes, they end up being landfilled because companies don't have enough information and skill set to manage their surplus effectively. Fazla Gida solves this issue by using
an in-house developed AI-based algorithm that takes customers' SKU lists with time and location-based data, best-before date, and nutritional values. The system calculates the financial, social, and environmental impact of surplus according to data collected and categorises all products with the best-fit solution.
In addition to those solutions, the Fazla platform provides real-time reporting and analytics dashboards for dynamic waste stream analyses and insights to reduce waste at the source by using machine learning algorithms and big data analysis. The platform analyses the big data of food companies and provides real-time data analytics with a variety of explanatory and easy-to-use graphics. The dashboard provides surplus trends based on products, product categories, stores, and regions to the clients. Clients have access to monthly trends via dashboards where they can see the top wasted SKUs sorted by amount, weight, and cost. They can compare results in store breakdown and see monthly changes of surplus results.
They have also developed the Fazla App which aims to decrease food waste in the HoReCa sector by providing HoReCa businesses a chance to reach out to customers with edible food that they couldn't sell during the day and that will go to trash because of quality or operational reasons. Both customers and businesses can benefit from it since the customers will have a chance to buy quality take-away food at a discounted price and businesses will gain profit from food that otherwise go to waste. The system reduces food waste and waste-borne carbon emissions as well. The main feature that makes the Fazla App unique is the fact that all the offers are in a concept of "surprise boxes"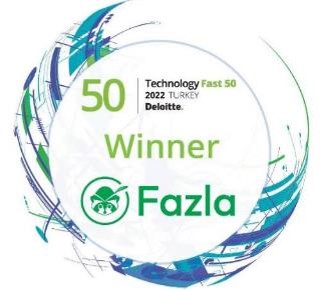 Ethical
Fazla are working to establish sustainable systems and to bring the highest benefit to the circular economy by correctly managing the surplus products. With their technology-based, holistic approach, they determine the most suitable service for food business's surplus products from food to textile, from packaging to chemicals, and they make the client's impact visible with their end-to-end and traceable process management. With this technology-based holistic approach, they provide the insights needed to prevent waste by tracking waste and helping food businesses bring their production and surplus products to the consumer.
One such system is the 'Extra Intelligent Weighing System', which measures the food waste in a business in detail and makes it possible to reduce the waste with data-based insights. The biggest obstacle in controlling and reducing food waste is the inability to measure the waste generated during the kitchen operation.
About
Meira Nova is a wholesaler that has specialised in serving restaurants, hotels, personnel restaurants and public sector institutional kitchens for the past 30 years. Customers include restaurants, hotels, corporate canteens and public sector institutional kitchens. Meira Nova's services cover all of Finland. The product range contains all the products needed by these customers and they offer:
Online shopping, open 24/7
Selection of 21,000 products
Most reliable deliveries in the field
Option of shopping all the product areas supplied in a single delivery
Delivery within 48 hours
Competitive prices
Sympathetic and competent customer service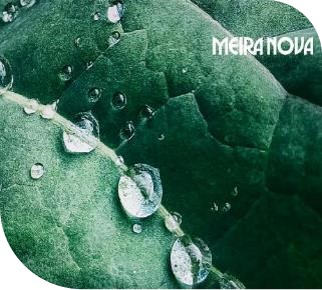 Why it is a Good Practice?
Meira Nova's product selection consists of domestic products and foreign products. Regardless of the country of origin, the products must meet the responsibility guidelines defined by Meira Nova. Responsible sourcing plays an important role in efforts to preserve natural diversity, sustainable development and promote the realisation of human rights. Each of Meira Nova's suppliers commits to the guidelines through a procurement framework agreement. Procurement responsibility consists of several areas. The sub-areas include environmental responsibility, social responsibility and financial responsibility.

For suppliers, Meira Nova enters into a written procurement agreement with all suppliers. You can read the product group-specific quality requirements and expectations via the links that follow:
Fruits and vegetables
Industrial foodstuffs
Fresh products and frozen foods
Consumables
Daily use goods
Ethical
Meira Nova prefers products that meet the responsible procurement criteria. The company evaluates the general principles of the policy, the species accepted for the selections and the species-specific criteria on a regular basis. At the same time, it is required that the principles are implemented down the procurement chain. Read more about Meira Nova's responsibility principles here, such as Meira Nova Sustainability Report as well as policies on responsible procurement in the links below:
Animal welfare policy
Coffee and tea line-up
Fish line
Egg alignment
Forest lost alignment (beef)
Forest lost alignment (wood and paper)
Plastic lining
Palm oil alignment
Soy alignment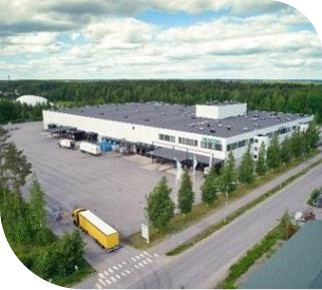 Sustainable
In Meira Nova's procurement contract, suppliers commit to Amfori BSCI's ethical operating principles and at the same time it is required that the principles be implemented down the supply chain. Meira Nova belongs to the S group and through that is committed to the:
S group's responsibility guidelines and ethical principles:
BSCI Code of Conduct ethical principles
Implementation conditions
Amfori BSCI reference document
Amfori BSCI glossary
Risk paint amphora BSCI 2022 (English)
About
Kesko and K-retailers together form K Group, which is the biggest trading sector operator in Finland and one of the biggest in Northern Europe. K Group's retail sales in 2021 totalled some €15 billion. Kesko and K-retailers combined employ approximately 39,000 people and K Group employs some 45,000 people in total. Sustainability is a core part of Kesko's strategy. They promote sustainability in the whole value chain from production to customer choices.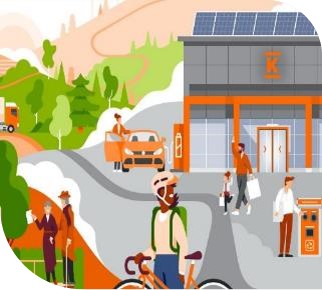 Why it is a Good Practice?
Food waste is a major global problem, and the K Group is actively working to reduce it. K Group has a goal for reducing food waste by half by 2030. K Group aims to minimize the food waste resulting from its operations and one of the solutions for minimization is product innovations.
The selection of products made from food waste at K-stores is growing all the time. In recent years, several Finnish products made from food waste have been introduced as K Group's customers have been very interested in these kind of products.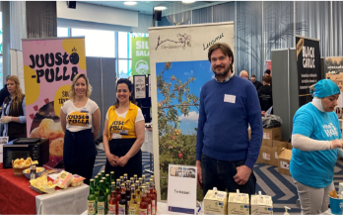 Sustainable
At times, waste is generated in the warehousing operations of fruit and vegetables. Fruit and vegetable products may be damaged on their way to the warehouse, and some of them fail to meet the required standards due to their appearance. These kinds of edible yet non-sellable fruit and vegetable products provide excellent ingredients for drinks and soups, for example: Hyvis Tomato and Cheese Soup made from Kesko's central warehouse surplus tomatoes, in four months saved already over 7 000 kilograms of surplus tomatoes.
The non-alcoholic Olvi Iisalmi cocktail is seasoned with The Helsinki Distilling Company's orange distillate, which is made from surplus oranges in the K-Group's central warehouse and the orange peel of K-stores' orange juice machines.
K Group is actively seeking and developing circular economy models with its partners to find surprising solutions on the way to more sustainable products.
Aswell as this the K Group aims to be carbon neutral in 2025. They will systematically reduce emissions so that their own operations and transports are emission-free by 2030. In between 2025 and 2030, they will offset their remaining emissions. Their objective is to eventually have no need for offsets and make their own operations emission-free by 2030.
Kesko_annual_report_2021_sustainability.pdf
About
Helsinki Mills Ltd. is Finland's largest organic grain processor and a traditional family-owned company that has been manufacturing grain products for over 85 years. The company develops, markets and sells various grain products to consumers, the food industry, food service, food distributors and bakeries. Locally sourced, Finnish grains are the primary raw material, including wheat, rye, barley, and oats and Helsinki Mills uses them to make flour, flakes, porridges, mueslis, cereals and meal ingredients. Helsinki Mills has manufactured organic products for more than 25 years, and nowadays it is Finland's largest producer of organic grain products. Around one-third of the products Helsinki Mills manufactures are organic. In recent years, oats have played a larger role, and the company has specialized in gluten-free oat products. Exports are a key strategic focus for Helsinki Mills. Today, exports represent as much as around 35 percent of the total turnover. Helsinki Mills products, including flakes, oatmeal, bran, porridges, flours, baking goods and breakfast cereals are now available in some 50 countries around the world.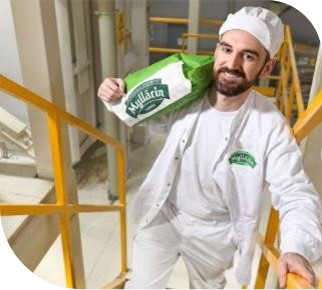 Why it is a good practice?
Environmental matters and sustainability were important to Helsinki Mills long before that became a trend. Environmental friendliness is demonstrated by e.g. the fact that since 2020, the mill process has been completely carbon-neutral, and all production facilities only use green electricity. Helsinki Mills considers the environment also when choosing packaging materials. Mills produce very little landfill waste, because the waste produced during grain cleaning is waste-to-energy waste, and packaging materials are recycled as
cardboard or as waste-to-energy waste. Helsinki Mills is committed to the UN's sustainable development goals and continually develops operations to safeguard food and well-being in the best way possible. Helsinki Mills is a good choice for a number of reasons, such as:
production is carbon-neutral
-products are made from pure, Finnish grain
-company only uses renewable energy in manufacturing
-range includes plenty of gluten-free and organic products
-all of the products are vegan
-company is committed to reducing the use of plastic in packaging
-company donates any waste generated during production to charity, or sends it to be reused
-company complies with international standards in quality and product safety
-company continually develops new, healthy and climate-friendly alternatives for breakfasts, snacks, and the dinner table
Read more: Helsinki Mills Sustainability Report
Sustainable
Domesticity and transparency are important to Helsinki Mills Ltd. As a mill, a sustainable and resilient economy that benefits both people and nature is at the core of a vision. Helsinki Mills wants to ensure the future of food production and reduce the environmental impact of operations. Farming, and thereby also the availability of the most important raw materials, are affected by extreme weather phenomena and impoverished soil, as well as species loss, which must be slowed. That's why it is so important to commit to sustainable development and to continually develop work to safeguard food and wellbeing in the best way possible.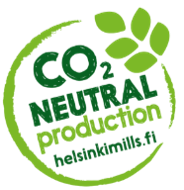 Healthy
Helsinki Mills has produced nothing but plant-based food since 1934 and has done its best to offer easy and healthy alternatives for modern consumers. Following a plant-based diet is sustainable eating. Grain-based products are a great part of a vegetarian diet, and Helsinki Mills aims to offer a wide range of healthy grain products for different uses – without compromising on flavour or quality.
Ethical
Helsinki Mills has calculated the carbon footprint produced by the energy consumption of their mills. The mills' combined carbon footprint (calculated to a precision of Greenhouse Gas Protocol scope 2) in 2021 was 120 tonnes, which corresponds to the annual emissions of 10 average Finns. For years, Helsinki Mills has used green electricity and generated the thermal energy required for producing flakes by burning oat hull waste in its own biopower plant, which has helped
to reduce its carbon footprint. It is not possible for Helsinki Mills to further reduce the carbon footprint, so they have decided to compensate for carbon emissions by investing in measures to slow the impact of climate change. Each year, they make a compensation payment. In 2021, emissions were offset by forest-based carbon sinks in Finland through Green Carbon
Helsinki Mills has also investigated the life-cycle footprint for oats from field to store shelf, which allows to calculate the carbon footprint of individual oat products made at the mill. This work is still ongoing, but completely carbon-neutral oat products will be available on store shelves in the future. The company's business activities of course involve many other operations, such as transport, warehousing and office work, and the environmental impact of this is being investigated. Once Helsinki Mills has calculated these impacts, the company can strive to reduce them and, if necessary, compensate for them through climate projects.
Why it is a good practice?
FoodSpace is an Irish sustainable on-site food service & hospitality management company, which operates a zero-waste policy. Their ethos is 'Loyal to Local' and this is the idea behind everything they do. The business focuses on using local, seasonal produce and making sure it is sustainable. FoodSpace works closely with each business they cater for. They focus on tailor-made solutions and take time to develop bespoke ideas to match the client culture, employees' tastes and the physical environment. This is a key differential compared to other contract catering organisations. As a result, menus are carefully crafted to a local and healthy dimension.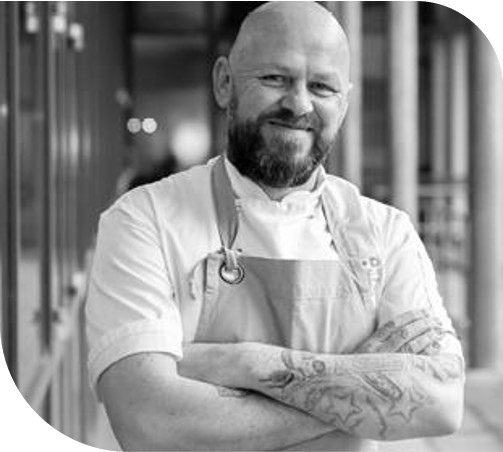 About
FoodSpace culture is based on the personalities of their entrepreneurial foodie leaders. Together, they have created a collaboration of like-minded people, who enjoy what they do every day! The team have operated food service and hospitality catering facilities in workplaces and colleges across Ireland, however, they wanted to spread their ethos further and wider by opening a site that the general public could visit.
So recently FoodSpace opened their own café called Ink, based in Dún Laoghaire so that members of the public could enjoy their food and find out more about the ethos of the business with a focus on local suppliers, farmers and fishermen, and seasonality. Most of their food comes from within 50 miles of the site, and 85% from Ireland. Menus are written depending on what vegetables are in seasons and available that week.
The only imported items are those not produced in Ireland, such as coffee, tea, and spices. Wine and Prosecco are sourced from sustainable vineyards, and beers and ciders are from independent Irish brewers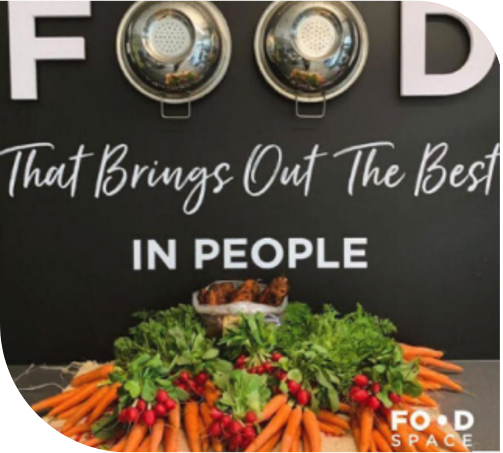 Sustainable
FoodSpace are also committed to completely eliminating waste, with all fresh food delivered in reusable crates, no single-use plastics (including clingfilm), and menus are pinned onto cardboard from deliveries. That goes for food waste too, with fruit skins and cores fermented to make vinegars, vegetable skins dehydrated and turned into powders for seasoning or sauces, and overripe fruit used to flavour their kombucha. Used coffee grounds are repurposed to make a version of pastrami, and as compost for growing their own herbs and salads. Conor Spacey, Culinary Director at FoodSpace is very focused on providing a sustainable food system that involves seasonal Irish ingredients, working directly with farmers across the country and implementing a zero-waste policy that also reduces our carbon footprint.
Culinary Director Conor Spacey explains:
"Onion skins, we roast and dehydrate. Others buy in bouillons but we in effect make our own with the tops and tails of veg. We take whey from ricotta, which we make and use it for barley porridges or as a base for a ferment. The people dining in our canteens are eating better…Kombucha, ferments, scobys and so on are good for their gut health. We make a Kim Chee cauliflower… from the leaves and the stalks, using sea salt, sugar, ginger, garlic, and carrot for sweetness. All these ideas are from a history that we lost, and we are bringing them back."